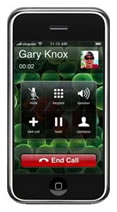 Despite Linksys already having brought out a product called iPhone, Apple today revealed their long-anticipated entry into the mobile/smart phone market bearing the same name. The iPhone was among a slew of products the various pundits hoped would be announced in Steve Jobs' keynote address at the San Francisco MacWorld conference, although pretty much the whole of the keynote was given over to this and the previously announed iTV. This meant no immediately announced updates to hardware (except a new Airport), no iWork 07 and an iTV which had the most basic feature list (although still darn cool and sure to be built upon).
The iPhone looks like a great piece of kit, combining a full web browser (Safari) a mail client, wireless and bluetooth access, photo software (all running on OSX), and of course a video iPod. That last bit shouldn't be a surprise as it is Apple's killer app for this type of hardware and the thing they have over their competitors in the smartphone market. I think we'll see all the major players move to the touch-screen interface in the coming months as Apple's share of customers increases, though it is interesting they moved away from the clickwheel interaction for the iPod part of the phone.
We may also be seeing the first device which popularises the mobile web with the inclusion of a slightly tweaked Safari browser, giving people a consistent experience as they move from desktop to iPhone as it syncs your bookmarks between the two. This may be the end of WAP 2.0 and walled gardens.