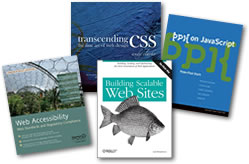 There's been a surge in new web development books being announced in the past few weeks, so here's a quick run-down.
A welcome addition, especially in light of the upcoming WCAG 2.0 release. A replacement on the shelves for the good, but aging Accessible Web Sites from the now defunct Glasshaus, it will hopefully be covering the accessibility issues of some of the newer techniques such as image replacement and oh I dunno, ajax? Looking at the contributing author list this looks like it will be a good read.
This is one I'm waiting for, having made my merry way through Jeremy Keith's DOM Scripting (for good, not evil), I've been wanting more, but also wanted to avoid polluting my clean js knowledge with old-school techniques. Ppk says this is definitely a sequel kind of read so it should work out quite well.
I missed Andy's talk at this year's atmedia - damned 2 tracks! - but this may make up for it. It looks to be a 'think past the restrictions of CSS' vibe. Not much info apart from that, so we'll have to wait and see.
Cal Henderson did a great stint at the Carson Summit and I hope this book follows his presenting style rather than the more dry style O'Reilly is more known for.
From all the reviews I've seen this is the book to buy anyone you know who is just getting into web design. Something we've been missing and one I'm going to recommend.
Another Friends of Ed book, this time by Paul Haine and I'm guessing a non-official companion to Andy Budd's CSS Mastery.
A green cover for the new edition. Question is, will it still be referred to as 'the orange book'?