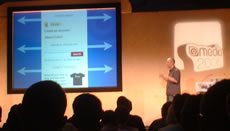 I think Patrick has put himself in a bit of a tight spot. Looking at my bookshelf I can see at least 6 books authored by people who presented this year. Making next year's conference as good as this year's is going to be a real challenge. It was really great to see some familiar faces among the crowd and get to meet a bunch of new ones. The conference was split along two tracks which caused a good few people to wish they could split themselves in half and it meant some really tough decisions - how do you decide between Andy Clarke and Tantek Celik?
Anyway here are my best bits:
The WCAG panel encouraging people to actually read the 2.0 draft before making their mind up (and finding out about the quick references they've just put out); though most people agreed having Joe Clark there would have made it more of a debate.
Jeff Veen's 'Next Generation of Web Apps' presentation was the highlight of the whole conference and a great way to finish off day 1. I've always wanted to see Jeff speak as it was his Art and Science of Web Design book which gave me a huge leg-up in web design and he didn't disappoint, giving an inspiring look at the state of the industry, how far we've come and where we might be going next.
The social calendar sprang back into action with Patrick managing to convince the bar to open up for football and after a win and a few drinks it was down to the Texas Embassy for food with Gareth and Olly.
Dan Cederholm kicked of day 2 with a look into making sites bulletproof with examples from his Cork'd site and re-energised everyone after the excesses of the night before.
Cameron Moll told us how to look towards providing content to mobile devices and gave everyone some really useful tips to go away with. Yahoo!'s Nate Koechley's look at how they implemented standards into 3 of their upcoming products shows us how far the community has come in the past couple of years. Chatting to him afterwards about microformats and social tagging, he came across as a really nice guy.
Speaking of microformats, Tantek Celik enthused the whole lot of us with a run-down of what they are and the potential of them - along with examples of them out in the wild.
The final session was a great light-hearted 'hot topics' panel most ably hosted by Jeremy Keith - a great way to round of the day, followed by beer in the pub (CJ - are you going to start importing UK beer to Canada?).
What I noticed this year was a move towards more strategic thinking rather than nuts and bolts stuff. Also the presentations were without an exception amazing - from the crafted slides to the practiced speakers - coupled with a great venue this was a top class event. Congrats to Patrick and here's to @media 2007.