I've just finished reading Cameron Moll's latest book, Mobile Web Design, which is available as a 100-page PDF download for a mere $19. This is my first download of a purchased book and I'm pleasantly surprised by the format.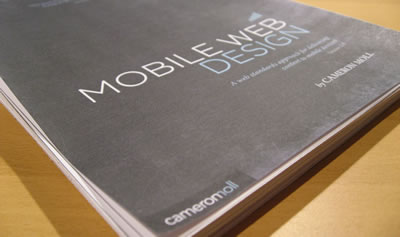 The general thrust of the book is that the content should probably not be just your standard site (one of 4 possible options Cameron outlines), but rather a separate section or domain with content tailored to the user on the move (mobile referring to the user rather than the device). Contextualising what content people will want from your website via their phone is probably the most challenging part of mobile web design. It is quite possible that it is something which is not present on your primary domain, but this book gives you some good examples to help you get thinking in the right direction and using the phones unique abilities to full effect.
This is not a technical reference, instead focusing on the greater picture, but Cameron gives plenty of links for additional reading, something which is important in what will possibly be many people's first look at designing for mobile users. In all it was a great read, which I managed within a day, and anyone familiar with Cameron's writing on his blog will feel right at home. Still not sure? The book site has a sample. Go download.